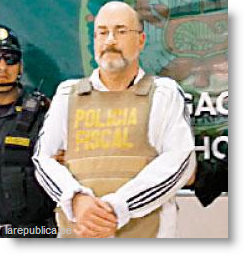 Peruvian police on Wednesday arrested an international fugitive wanted in the United States for defrauding hundreds of investors, including retirees, out of millions of dollars.
Eric Bartoli, a 59-year-old Peruvian-American citizen, was arrested in Lima's seaside district of Chorrillos, after more than a decade on the run. He was wanted by the Federal Bureau of Investigation for allegedly running a large scale Ponzi scheme in the late 1990s.
Bartoli, born in Lansing, Michigan, had set up an Ohio-based company, Cyprus Funds Inc., to allegedly sell certificates of deposit and unregistered mutual funds, according to a statement issued by the U.S. Embassy in Lima. The company raised about $65 million from approximately 800 investors in the Unites States and Latin America.
The U.S. Securities and Exchange Commission sued Bartoli in 1999, a $49 million civil judgement for selling phony mutual funds, trusts and certificates of deposit. However, he never showed up to hearings and fled Ohio. Ten years ago, a district court in Ohio charged Bartoli with conspiracy, securities fraud, sale of unregistered securities, wire fraud, mail fraud, money laundering and attempted income tax evasion.
"We hope that the long awaited prosecution of Bartoli will provide some satisfaction to the many individuals he defrauded," said Stephen Anthony, a special agent at the FBI's Cleveland office.
According to the head of the fiscal police in Lima, Col. Oscar Llactas, Bartoli also faces charges in Peru for money laundering. Police said Bartoli has documents for three nationalities — Peruvian, American and Argentinian— and multiple identities, including Enrico Adams, Steve Betts and Enrico Orlandini (his maternal surname).
In 2008 a report by AgenciaPeru, focusing on corruption at Lima's Jorge Chavez international airport, indicated that Bartoli had been allowed by airport immigration authorities in March 2008 to travel to Argentina from Lima, despite a still-valid court order dating back to 2005 prohibiting his exit from Peru because of "family assistance" that he had failed to pay.    At the time, according to the news report, Bartoli owned some nine real estate and mining companies in Peru and lived in the upscale district of Monterrico.