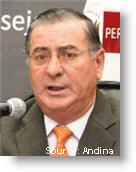 Premier Oscar Valdes said Monday that President Ollanta Humala should forget his campaign promises and govern for all Peruvians.
Humala, who took office last July, has been heavily criticized by a number of groups that accuse him of abandoning his leftist base and governing from the center. The critics have opposed Valdes, who they accuse of cracking down on protests against the mining sector.
The dispute over the political path that Humala has taken since assuming office resulted last week in the resignation of four legislators from his governing Gana Peru party. 
Six months ago, a major cabinet shuffle was the end result of opposing positions on the way to handle the Conga mining protest in Cajamarca, forcing the resignation of the premier, Salomon Lerner Ghitis, and several key ministers. 
During a television interview on Monday, Valdes said the government will aim to use dialogue to resolve mining protests, but that it will maintain a "strong hand" to ensure that protesters comply with the law.
He added, "What I hoped and I think what all Peruvians hoped for, was that when our President [Ollanta Humala] was elected he should then forget his campaign promises."
"He should govern for 100% of the Peruvians," Valdes said.