As presidential hopefuls Ollanta Humala and Keiko Fujimori battle for undecided voters with less than a month before the run-off election on June 5, tensions on the campaign trail have heated up as both parties hurl accusations that opponents are intimidating journalists and launching attacks on candidates.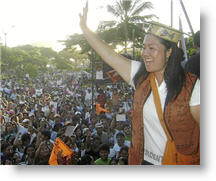 On Tuesday, Fujimori, 35, accused members of Humala's left-wing Gana Peru party of attacking her with eggs and stones while campaigning in the town of Satipo, in the highland jungle of Junin.
"Comandante Humala, your stones are not going to shut me up!" Fujimori wrote on Twitter following the incident. "This is no way to confront ideas!"
About 10 people were involved in the incident, and one person has been arrested, daily Peru.21 reported.
Gana Peru denied involvement in the egg-and-rock throwing, according to state news agency Andina.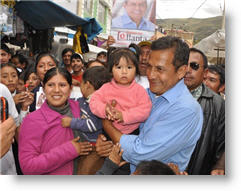 "Our party is against any type of violence and now reaffirms and calls on the population and independent activist groups to express their rights in complete freedom, in a peaceful way, and with strict respect for people, avoiding violent actions," a Gana Peru statement said.
Opponents of Fujimori have accused her party of orchestrating the event to make it appear as if it were organized by Gana Peru, reminiscent of the "psycho-social" actions practiced frequently against the opposition towards the end of Alberto Fujimori's administration in the 1990s.
In 2000, as Alejandro Toledo led a march to protest the swearing in of Alberto Fujimori to his unconstitutional third presidential term, vandals set fire to buildings of the judiciary downtown and to the Banco de la Nacion, which eventually imploded killing six guards inside the building.  The Fujimori government tried to blame Toledo for the deaths, but later investigations pointed to vandals hired by spy chief Montesinos.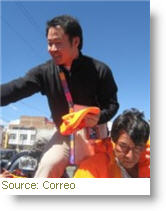 Fujimori isn't the first member of her party to be hit with eggs while campaigning. Her brother Kenji, who was recently elected to Congress, was also confronted by egg-throwing protesters last week during a campaign stop in southern Puno region. Although 60 percent of Puno voters chose Humala as their presidential candidate in April, the Gana Peru candidate said neither he nor his party could be held responsible.
"Puno is Puno," Humala commented to political journalists on Channel 2 TV Sunday night.  The electorate in Puno, who President Alberto Fujimori could never win over, is known for its strong reactions, chasing its own elected authorities and members of congress out of town and, tragically, killing a mayor in Ilave in 2004.
The election campaign is taking on very dangerous tones, according to Cecilia Blondet, director of ProEtica, in an interview in La República.  Racial epithets on Facebook are rife and she believes the fear campaign led by some well-off sectors of society is responsble for much of it.
Intimidating Journalists
The polarization surrounding Fujimori and Humala has also spread to members of the media.
Congressman Luis Gonzalez Posada of President Alan Garcia's ruling Apra party called this week for the Public Ministry to open an investigation into those responsible for a confrontation between journalist Jaime de Althaus and young protesters.
De Althaus, a conservative commentator who hosts the program La Hora N, was confronted by a group of young supporters of the "No a Keiko" movement when leaving the cable TV station Canal N.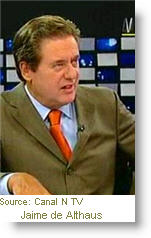 De Althaus' car was surrounded by protesters who Rosa Maria Palacios, the host of Prensa Libre also on Canal N, said "ferociously" hit his vehicle. However, other videos have shown that there was little physical involvement except for blocking the car's path and placing posters over the windshield while chanting.   The protest was monitored by police who did not see the need to intervene.
The group, which was reportedly led by a 21-year-old member of Humala's party, Jareth Solis, was upset over their claims that De Althaus and Canal N have been providing unbalanced coverage of the election in favor of Fujimori.   Solis has apologized to De Althaus for the confusion and is seen in the videos to be calling protesters to move away from the car.
In April, the general producer of Canal N, Patricia Montero, and news producer of the station's morning De 6 a 9 program, Jose Jara, were fired.  According to Montero, who was producer of the TV station since its founding towards the end of the Fujimori government, both journalists had been pressured by the owners of Canal N –the El Comercio publishing group– to support Fujimori. Canal N has denied the allegations.
This week, meanwhile, journalists from the leftist daily La Primera, which has been strongly critical of Fujimori, have also faced intimidation. The editor of the newspaper, seasoned journalist Cesar Levano, and the president of its board, Arturo Belaunde, both received funeral wreaths this week. Both wreaths carried the message of "Rest In Peace."
Levano attributes the wreaths to a reaction by Fujimori's party to an article published in La Primera that outlines the upcoming attacks allegedly planned against Humala, including the hiring of late-night commentator Jaime Bayly by America TV and illegally-taped videos and audios.
Delivering funeral wreaths to journalists occurred often in the 1990s during the administration of Keiko's father, imprisoned ex-President Alberto Fujimori, in order to intimidate reporters.
While it is unclear who sent the wreaths, Gabriel Mazzei, an editor at La Primera, said its orange flowers were a clear allusion to Fujimori's Fuerza 2011 party's campaign color.
Keiko Fujimori has denied that anyone in her party would send such flowers.  "It would be absurd," she said, and expressed her support to the La Primera editor.
Both candidates are highly polarizing figures and were largely able to advance to the second round vote because the three other leading candidates split the moderate, centrist vote.
Both candidates also garnered their winning votes from the lower income electorate, who have not benefitted from the past decades of economic boom.  Although the poverty level has dropped in 10 years from around 54 percent of the population to close to 34 percent, a large number of the close to nine million people who voted for Humala and Fujimori are among the excluded and disenfranchised.
In this second election round, Fujimori also has the strong support of the business community and those afraid of any changes in the economy.
Critics of Humala point to his ties in 2006 with Venezuelan President Hugo Chavez and his plans to allow the state a much bigger role in the economy, terrifying the business community as well as many Peruvians who believe the country has changed for the better in the past 20 years.
On the other hand, Keiko Fujimori will obviously continue the free market economy her father applied in his 1990-2000 government. But many fear that she could usher in a new era of the deep corruption and strong-arm tactics used by her father. Her congressional slate is rife with her father's former adherents who rubber-stamped his anti-democratic measures, and several have made it clear they still fully support those methods.
Peruvians will go to the polls on June 5 and the winner will assume office on July 28 for a five-year term. Each of the candidates have about 40 percent support, according to recent opinion polls.