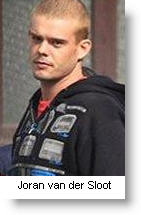 The judges hearing the trial of Dutch citizen Joran van der Sloot are expected to announce their sentence Friday, following Van der Sloot's plea on Wednesday of guilty to the 2010 murder of Stephany Flores, a 21-year-old University of Lima business administration student.
"I plead guilty and I regret everything that I have done," Van der Sloot said during a court hearing on Wednesday.
Van der Sloot, who is also the prime suspect in the 2005 disappearance in Aruba of US teenager Natalie Holloway, met Flores at a casino in Lima's Miraflores district.
Flores' body was found in Van der Sloot's hotel room. Security video showed Flores entering the room with Van der Sloot, who was later seen on camera leaving the room alone. Reports say that Van der Sloot killed Flores after the university student found information on the Holloway case on Van der Sloot's laptop.
Flores was killed exactly five years after Holloway went missing. The Holloway case was widely covered by international media, which has also, along with Peru's local media, been reporting closely on the Flores case.
Flores is the daughter of businessman Ricardo Flores, a former presidential candidate.