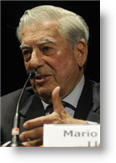 Nobel laureate Mario Vargas Llosa called the praise given to deceased former Venezuelan President Hugo Chavez by Latin American leaders, including Peru's Ollanta Humala, as "pathetic."
Vargas Llosa, a strong defender of open economies, free trade and democracy, was long a critic of Chavez for undermining democratic institutions and spreading economic nationalism in Venezuela. Vargas Llosa has also been a vehement critic of far-right administrations in Latin America.
While Chavez was a highly controversial figure in Latin America, many of the region's presidents who attended his funeral praised the former leader.
President Humala said at the time that Chavez is "an example for the world to follow."
"To talk of President Chavez is to talk of the future because he followed the dream of Latin American unity," Humala said. 
"It is pathetic to see… Humala, who is overseeing an excellent economic policy, saying that Chavez was an example to follow," daily El Comercio reported Vargas Llosa as saying.
"It is an unfortunate spectacle to see democratic presidents, who promote democratic policies, to be complicit on an international plane with populists and semi-dictators," Vargas Llosa said.
Humala was a close ally of Venezuela's Chavez during his unsuccessful 2006 run for president. In 2011, the Peruvian politician distanced himself from the former president in order to promote a more moderate, business-friendly platform.
Vargas Llosa vigorously supported Humala's bid for president in 2011 when Humala's contender in the run-off was the daughter of jailed ex-President Alberto Fujimori, former Congresswoman Keiko Fujimori.