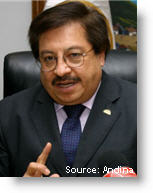 The Andean Community of Nations – which includes Bolivia, Colombia, Ecuador and Peru – is aiming to establish a program that will harmonize their anti-drug and alternative development policies, state news agency Andina reported.
Adalid Contreras, the secretary general of regional group, known as CAN, said the four countries are working on a proposal harmonize information on the drug trade that will support public policies.
"Its objective is to establish a program to harmonize data collection methods of indicators on supply, demand of drugs and alternative development in the Andean Community," said Contreras.
Virtually all of the world's cocaine is produced in Bolivia, Colombia and Peru.
However, authorities in the countries have raised concerns recently about growing drug consumption.  Contreras said the member countries have discussed various projects to cooperate on preventing drug abuse.
Peru is planning to hold in June an anti-drug summit that will reinforce the need for "shared responsibility" between drug-producer and consumer countries to tackle the global cocaine trade, Contreras said.