Argentina's Pluspetrol, which is the lead operator of the Camisea Consortium, has denied any interest in exploring for gas in Peru's Manu National Park, following the publication of a report by British newspaper The Guardian.
Pluspetrol issued a statement this week saying that "it has not done nor plans to do any extractive activity" in the national park.
The company said that for "scientific interest" it had considered carrying out geological tests in Manu that would have had "zero environmental intervention, and as such no environmental impact."
Pluspetrol said it met with a consulting firm to discuss carrying out an investigation. It also held talks with Peruvian authorities to see if they could receive permission to do research in the national park.
"We had meetings with the consultancy that was doing the investigations on the case, and as a result – given the area's restrictiveness – we decided to not continue with the request," Pluspetrol's statement said.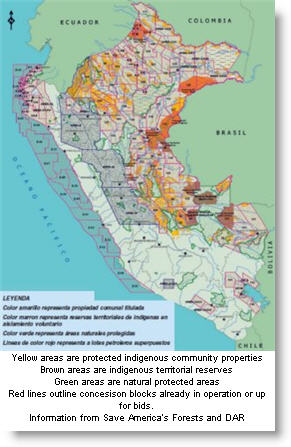 The Camisea consortium produces natural gas from concessions in the Cusco region, northwest of the Manu National Park and partly in a native territorial reserve that lies within Block 88.
The rainforest area in the regions of Cusco and Madre de Dios include at least four protected areas, including the Alto Purus National Park, a territorial reserve, and the Bahuaja Sonene National Park, which became a park in the 1990s as a result of a campaign against oil exploration by Mobil. 
Manu, located in Madre de Dios region, is one of the world's largest protected areas and a UNESCO World Heritage and Biosphere Reserve site since 1987. It is home to over 1 million species of insects, 1,000 species of birds, 300 species of trees, 120 types of fish, and countless other life forms.
The park is also home to indigenous communities that live in voluntary isolation and face high health risks from illnesses that are common among outsiders, anthropologists say.
The fact is that oil and gas exploration blocks, whether already in concession or up for bids through ProInversion, touch on national parks and protected areas throughout the Amazon.  Some concessions in northern and southern Peru have been in operation for many years, and more blocks were outlined during the privatization boom in the 1990s under President Fujimori. The largest expansion of blocks for concession, however, was made during President Alan Garcia's 2006-2011 administration, when the government virtually put the whole country up for auction.
According to Save America's Forests, in a recent report, more than 180 oil and gas blocks cover the areas of greatest diversity in the western Amazon, which includes Bolivia, Colombia, Ecuador Peru and part of Brazil, and these concessions add up to more than 68.8 million hectares (some 266,000 square miles).