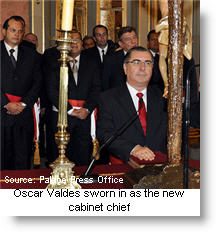 Peru's largest business organization, Confiep, believes President Ollanta Humala's new cabinet reinforces investor and market confidence in the Andean country's economic policies, state news agency Andina reported.
"The expectations are very high," said Confiep President Humberto Speziani. "Technical, young people have moved (in to the cabinet). That is important, it is the change that the country needs, less political and more management, more efficient."
Speziani said that Humala's pick of former Interior Minister Oscar Valdes as the cabinet chief, replacing Salomon Lerner Ghitis, was a good choice.
"President Humala has found a very capable person in Minister Oscar Valdes. I think that the cabinet can work more together, they are going to make a good team," Speziani said.
He added that "I think the markets are going to react well" to the new cabinet. "There could be external factors that affect the Lima Stock Exchange, but the Peruvian and foreign investor that invests in Peru will be relaxed."
In addition to Valdes, Humala kept eight cabinet members in their portfolios, while appointing new ministers to 10 portfolios.
The ministers who remain in their posts include Patricia Salas in Education; Luis Miguel Castilla in Finance; Rene Cornejo in Housing; Carolina Trivelli in Social Inclusion; Alberto Tejada in Health; Carlos Paredes in Transport and Communications; Jose Luis Silva in Trade and Tourism; and Rafael Roncagliolo in Foreign Relations.
The new ministers are Luis Ginocchio in Agriculture; Luis Peirano in Culture; Manuel Pulgar Vidal, of the Peruvian Environmental Law Society, in Environment; Jorge Merino in Energy and Mines; Ana Jara in Women; Juan Jose Jimenez in Justice; Alberto Otarola in Defense; Jose Urguizo in Production; Jose Villena in Labor; and Daniel Lozada in Interior.