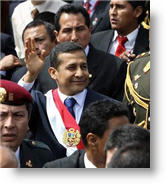 Two weeks into his term, President Ollanta Humala has a 62% approval rating, up from 55% in July, according to a poll by Datum Internacional.
The poll, published Friday by daily Peru.21, was taken from August 5 to 8. Seventy-one percent of the respondents said that Humala's inauguration speech to Congress was positive.
During the speech on July 28, Humala outlined his policy priorities and stirred a controversy by pledging to rule by the spirit of Peru's 1979 constitution, rather than its current constitution.
The current constitution was written in 1993 during the administration of ex-President Alberto Fujimori.
Opposition lawmakers from the Fuerza 2011 party, which supports Fujimori and was narrowly defeated in the presidential election, booed and heckled Humala during much of his speech following Humala's declaration.
The incident resulted in legislator Martha Chavez of Fuerza 2011 being suspended for 120 days. Seventy percent of those polled by Datum said they agreed with the sanction.
Forty-three percent of the respondents said that Humala's mention of the 1979 constitution was aimed at provoking the opposition. Sixty percent said they are in favor of the current constitution and 11% said they would favor a return to the prior one.
The poll also showed that 50% of respondents do believe that Humala's family will impact his decisions. Sixty-seven percent believe he will respect press freedom, but 48% said they think Humala will be authoritarian.
Humala, 49, a left-wing former army officer, will govern for a five year term.