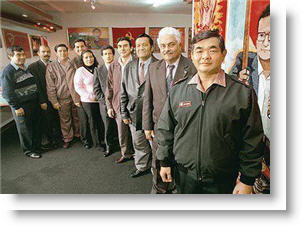 Twenty years after they captured Abimael Guzman, the head of the Shining Path rebels in 1992, former members of a special police intelligence unit are being reincorporated to collaborate with authorities to fight a splinter group of the guerrillas in the country's top coca growing region, a high-level government official said.
Interior Minister Wilfredo Pedraza said that members of GEIN will "strengthen" the government's activities in the remote jungle valleys of the Apurimac, Ene and Mantaro rivers. 
"With their experience and training they are going to strengthen the activities that we are carrying out today," daily El Comercio reported Pedraza as saying. "GEIN's experience is important."
Pedraza said that intelligence had been key to capturing Shining Path leader Florindo Flores, alias Artemio, in the Upper Huallaga valley in February, and the killing of another high-ranking Shining Path commander in the VRAEM this month. The group in the VRAEM is heavily armed and has killed several Peruvian security personnel recently.
The 82 members of the original GEIN intelligence unit that captured Guzman in September 1992 were awarded recognition in Congress this week for their painstaking work, a recognition that had been long in coming.
The GEIN was a small, tight unit set up within the police anti-terrorism squad, DIRCOTE, with a meager budget and disdained by many of the larger squad.  Led by Marco Miyashiro, the strategist,and Benedicto Jimenez in charge of logistics, the unit began to show its first successes in early 1990. 
It sought financial and logistics support from the Peruvian Navy and the CIA, and began a methodical and meticulous following of key figures in the Shining Path.  Their surveillance tactics included posing as street sweepers, ice cream vendors on tricycles, garbage collectors to sift through a certain house's waste, and lovers walking along the street in the evenings. 
Guzman was captured on the second floor of a private home that was also used as a dance studio, in the middle class neighborhood of Surco in Lima. It was his most recent hiding place, where he had been directing the Shining Path's bloody campaign that sought to topple the Peruvian state.
His arrest by members of GEIN was critical to the Shining Path's defeat, yet the unit was disbanded by President Fujimori's intelligence chief, Vladimiro Montesinos, and little if any credit was given to the unit.
Today, remnant groups of the Shining Path continue to operate in isolated regions, although they have little connection to the Shining Path's original ideology and are instead linked to the cocaine trade.