Peru's free trade agreement with Japan is expected to come into force in the first half of 2011, according to Foreign Trade and Tourism minister, Eduardo Ferreyros.
"We are going to do everything possible so that this important trade deal with Japan comes into effect before the end of the first half of next year, the same with the FTA with South Korea," state news agency Andina reported Ferreyros as saying.
President Alan Garcia is expected to officially announce the conclusion of negotiations for the FTA on Sunday during a meeting with Japanese Prime Minister Naoto Kan, at the Asia Pacific Economic Cooperation summit in Yokohama.  Ferreyros is with Garcia at the summit.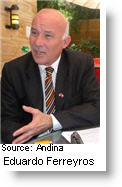 "It has been almost 20 months of negotiations, and at the end of this process we have got almost all of the Peruvian products with export potential, from fishing to agriculture, that will be granted tax exemption and the elimination of tariffs in less than 10 years," Ferreyros said.  He also said that Peru's accord with Japan is better than the agreements made by Mexico and Chile with the Asian nation.
"We will soon publish on the [ministry's] website the list of products that are included in the deal, such as cars, electrical appliances… that will enter Peru with lower tariffs."
Peru and Japan held six rounds of negotiations for the trade pact after starting talks in April 2009. The last round was held August 18-31 in Tokyo.