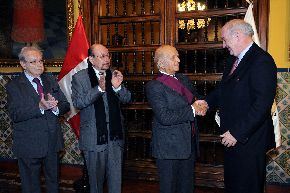 Peru's government awarded painter Fernando de Szyszlo on Tuesday the country's highest accolade, the Order of the Sun, in recognition of his artistic work and defense of human rights.
Foreign Affairs Minister Jose Antonio Garcia-Belaunde said during the ceremony that Szyszlo's art presents "intense abstraction" of Peru's culture.
"As well, the master is a fierce defender of human rights," state news agency Andina reported Garcia-Belaunde as saying.
"And he continues to be a reference in terms of what is civic culture in a country, the commitment to the highest values that should rule a society that seeks to be modern and democratic," Garcia-Belaunde added. "His contribution goes beyond any recognition."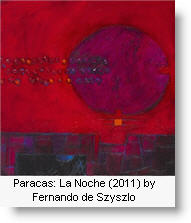 Szyszlo is one of Peru's best known painters, and his work –abstract art influenced by pre-hispanic Peru– has been shown in over 100 solo exhibitions in leading museums and galleries in Latin America, Europe and the U.S., including in the Museo de Arte Moderno, Mexico, The Art Institute of Chicago, and the Guggenheim Museum, New York.  His work is also in leading public and private collections around the world. In the 1960s he lectured at Cornell University and in 1965 was a guest lecturer at Yale.
Since last year, he is also president of the commission responsible for developing the Memory Museum. The museum will be built in Lima's Miraflores district and is intended to pay tribute to the tens of thousands of people who were killed during the country's bloody internal conflict in the 1980s and 1990s between government forces and leftist insurgents. 
Always an advocate of democracy, he joined Mario Vargas Llosa –a close friend– in 1987 in the rally against President Garcia's attempt to nationalize the banking system, and was a close advisor in Vargas Llosa's forming of the Libertad party and his unsuccessful bid for the Presidency in 1990. 
During the ceremony, Szyszlo said, "I have always wanted to live in Peru, to create art that is linked to Peru, to participate in its life and help this country achieve its destiny."