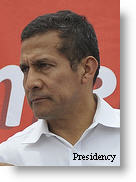 President Ollanta Humala, in an interview with Latin Finance magazine, denied that his ideology has changed since taking office in 2011.
In Humala's unsuccessful 2006 presidential campaign, the former military officer was a close ally of former Venezuelan President Hugo Chavez. His candidacy worried Peru's political and business establishment, which were concerned he would nationalize industries, and curtail democratic institutions as Chavez did. The concerns about Humala in 2006 helped former President Alan Garcia return to power, despite his disastrous presidency in the 1980s.
Five years later, Humala returned to the campaign trail with many of the same advisors, with a government plan that again called for greater state control in the economy. Although he won the first round vote, Humala didn't win sufficient votes —50 percent plus one vote— to avoid a second round run-off.
During the run-off, Humala eased his rhetoric, saying he would respect the private sector while putting a greater emphasis on lowering poverty through government social programs.
The shift helped Humala gain victory over his opponent, Keiko Fujimori, the daughter of jailed ex-President Alberto Fujimori.
Since taking office in July 2011, Humala has been highly supportive of the private-sector, leading many of his original supporters to break ties with the president over charges that he had abandoned his ideology for a pro-business stance.
In the interview, Humala said: "People say there are two Ollantas, one the candidate, the other the president. But this is not true: I am the same person who wants to follow through on my commitment."
Humala told Latin Finance, which named the Peruvian president the "Man of the Year," that maintaining strong economic growth, which has been driven by private-sector investments, was central to lowering poverty.
"We need to sustain growth," he was quoted as saying. "[But] the economic model cannot only be focused on growth."
"We cannot kill the goose that lays the golden egg, but create the conditions for it to lay more eggs," Humala said.
He added that the government wants to improve infrastructure, while also diversifying exports away from commodities.
"We are diversifying our economy to depend less on the sale of raw materials and more on the non-traditional sector," Humala said.