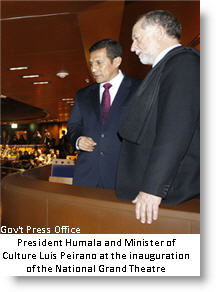 President Ollanta Humala's approval rating increased slightly in July, after falling sharply in the previous month, according to a poll release on Thursday.
Humala's popularity rose by two percentage points to 45 percent in July from the previous month, while his disapproval rating inched down one percentage point to 48 percent, polling company Datum reported.
The poll of 1,207 people was taken between July 6 to July 10. It has a margin of error of 2.9 percentage points.
In terms of socio-economic groups, the poll found that 51 percent of the upper economic A and B groups support Humala —those who were against him in the elections last year— while support among the lower income C, D and E groups is between 46 percent and 47 percent.
The poll also found that support for Humala in rural areas was at 39 percent, while in urban areas it was at 47 percent.
The figures demonstrate how a year into government, support for Humala appears to have shifted from poorer rural voters during the campaign to the upper-income urban electorate.
A number of supporters of Humala during the campaign have accused the President of campaigning on the left and governing on the right. The split between Humala and his former supporters is most evident in the government's handling of protests against mining projects, including the multi-billion dollar Minas Conga copper and gold deposit.
Opponents of the project want it to be canceled, saying that it will hurt the supply of water to farmers. Meanwhile, the government has backed Minas Conga, which is seen as an important project to generate employment and tax revenue.
According to the poll, 58 percent of the respondents say that Minas Conga should go ahead as it is or with modifications, while 30 percent say that it should be canceled.
The project is majority-owned by US-based Newmont Mining, in partnership with Peru-based Minas Buenaventura.