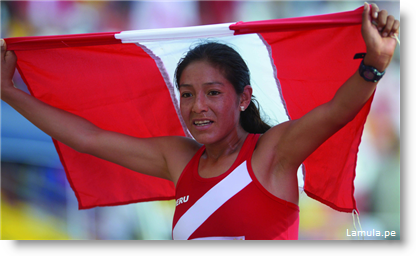 Peruvian athlete Ines Melchor took a gold medal this week at the South American Athletics Championship, held in Lima, winning the women's 10,000 meter (or 10k) race in 23:28.87 and becoming the fastest woman on the continent.
Just a week earlier, in Ecuador, Melchor won the gold in the 15K Quito race for the third consecutive year, completing the run in 51 minutes and 56 seconds. She was followed by Maria Pastuña of Ecuador and Rose Jebe of Kenya.
In the South American Athletics Championship, another Peruvian, Wilma Apizana, came in third in the same 10k race.  And the gold medal in the  men's 20k race was won by Pavel Chihuan. The championship concludes this weekend at the renovated athletics facilities in the district of San Luis in Lima.
Melchor, who will be 29 in August this year, was elected Peruvian sportswoman of the year in 2003, when she was 17.  She only began to run marathon distances more recently, however, and yet already holds the South American marathon championship.
In April, Melchor won the women's  category in the marathon held in Santiago de Chile, in which she completed the 42 km in a record-breaking 2 hours, 28 minutes and 18 seconds. This ratified her participation in the Olympics in 2016 in Rio de Janeiro. The runner up in the race, with 28,000 participants from 50 countries, was Erika Olivera of Chile.
On May 2, Melchor ran in the 10 km race at the Payton Jordan Invitational in Stanford, clocking in at 31:56.62  — with this time, she beat the Peruvian record and classified for entry in the same race for the Pan American Games to be held in Toronto this coming July.
Melchor, born in Acombabilla in the Andean highlands of Huancavelica, practices law when she is not running at different meets all over the world — she holds a law degree from the Universidad de los Andes.