Mountain Lodges of Peru,  which offers treks and horse riding routes in southern Peru, is one of three winners of this year's To Do! 2008 prize, given by Germany's Institute for Tourism and Development. The award is given in recognition of initiatives in socially responsible tourism.
"MLP's objective is to combine an upmarket tourism product with corporate social and ecological responsibility," reported Angela Giraldo, a consultant with the Stuttgart-based KATE, Center for Ecology and Development, in her rationale for the award.
The prize was received in Berlin by Mountain Lodge's president, Enrique Umbert, during the 43rd International Tourism Exchange, ITB,  which is held every March and is Europe's largest tourism fair.
The other winners of this year's contest were Rede Tecum of Brazil, a sustainable tourism networkof 12 communities along the coastline of beaches near Fortaleza, and the Unesco Biosphere Entlebuch, a grassroots-initiated reserve in the canton of Lucerne, Switzerland, and the first European contestant to win since 2000.
Peruvian tourism projects also won the award in 2001 –Wanamei Expeditions, an agency and lodges wholly-owned by eight indigenous communities in Cusco's Amazon jungle- and in 2005, by Posada Amazonas in Madre de Dios, a 4-star lodge operated by Rainforest Expeditions and owned by the members of the indigenous community of Infierno.
Mountain Lodges of Peru , a family business chaired by Enrique Umbert,  began with one lodge in Viñak, in the southern highlands of Lima, but its major development has been four upmarket lodges along an Inca route between Mt. Salcantay and Machu Picchu. The four-day treks and horse riding routes are designed for small groups. The company works with the communities along this route, fostering small businesses and training local personnel in hotel services. It also generates electricity at these lodges with gas-powered state-of-the-art generators, and has installed sewage systems that meet the newest environmental standards.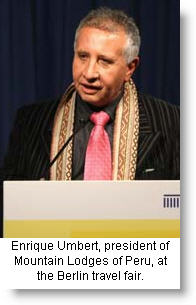 "MLP (has implemented) measures that strengthen the cultural identity and self-esteem of local people and enhance the ways of living in an Andean cultural setting," said Giraldo in the report. "Disadvantaged communities are given opportunities for development through education, health care, and new sources of financial income."
In 2007, MLP founded Yanapana Peru, an independent, non-profit association created as part of its program for Social Entrepreneurial Responsibility and responsible tourism in Peru. Current projects include health campaigns to tackle infant mortality and malnutrition and to provide primary health care, as well as support to local commercial or industrial initiatives, such as the production of handmade textile products, organic gardens, and orchid nurseries. This is done by providing training, technical advice, tools, and equipment. Approximately 90 percent of Yanapana is directly financed by MLP.