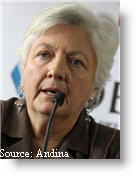 An international anti-drugs conference, planned for later this month, will promote shared responsibility among producing and consuming nations, the head of Peru's anti-drugs agency, Carmen Masias, said.
Top narcotics officials and government ministers from 44 countries plan to participate in the two-day conference, which will be held in Lima starting June 25, state news agency Andina reported.
The idea of holding the conference in Peru, which is one of the world's biggest producers of cocaine, was promoted early in President Ollanta Humala's administration after he took office last July.
Masias says the government wants to take on Peru's drug trade, which has been growing in recent years as production declined in Colombia, another top cocaine producer. Large swaths of uncontrolled territory in Peru, including the coca-growing Apurimac and Ene river valley, allow drug traffickers to act largely with impunity.
Masias said tackling the drug trade in Peru "isn't easy, it is a process of fighting against illegality."
She added that the "political will of the government is very clear: to fight against the illegality and have a country with harmony and peace."