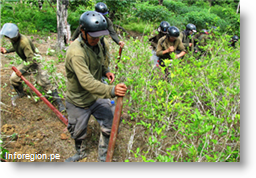 Peruvian security forces this year have eradicated a record number of coca bushes, bringing the program on track to reach its 2013 goal, Interior Minister Wilfredo Pedraza said Thursday, according to state news agency Andina.
So far this year, Peru has eradicated 17,000 hectares of coca bushes, way above the 14,000 hectares eradicated in the entire 2012. Eradication in 2012 was the current annual record.  During the previous administration, eradication remained at 10,000 ha per year while new crops planted in different areas increased
Peru's government is aiming to eradicate a total of 22,000 hectares of coca this year.
The uprooting of each coca bush is the most effective method of eradication of the hardy plants, whose leaves are macerated in a number of chemical ingredients, including kerosene, to make cocaine.
Forced eradication of illicit coca crops is one of the government's main pillars in curbing cocaine production, along with alternative development projects and interdiction.
Peru's cocaine production has increased steadily during the past decade. The country is considered the world's biggest producer of cocaine, now that output has fallen sharply in Colombia.