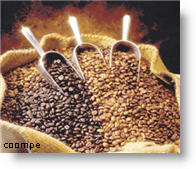 Revenue from coffee exports  in Peru, one of the world's top 10 producers, have declined sharply in the first 10 months of this year, according to business organization Perucamaras.
From January to October, Peru's coffee exports totaled $804 million, which is a 30.8 percent drop from the same period last year, according to Perucamaras figures reported by state news agency Andina.
However, the decline is not due to export volumes —only 2.7 percent below the same period last year— but due to lower world coffee prices. 
Coffee is Peru's biggest agricultural export product, according to Perucamaras.
Most of Peru's coffee is organic and produced by small-scale farmers in the country's mountainous jungle regions, from the valleys in Jaen in the northern highlands department of Cajamarca, through Chanchamayo in Junin, Quillabamba and La Convencion in Cusco and Sandia province in Puno.  In 2010, the  Specialty Coffee Association of America chose Cafe Tunki of Puno as the best organic coffee in the world, while Chanchamayo coffees have consistently won awards in Europe.