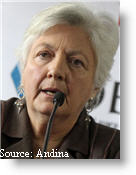 Peru's growing drug trade is deeply connected with the trafficking of persons in the Andean nation, according to anti-drug agency Devida.
Carmen Masias, Peru's anti-drug chief, said that Devida aims to provide information to families to prevent young people from being forced to work in the drug trade.
This alone may be difficult, however, as much of the illicit activity occurs in areas where Devida and other state actors have little if any presence. This includes the coca-growing Apurimac, Ene and Mantaro river valleys (VRAEM) and the Upper Huallaga valley.
"Many young people in the VRAEM and the Upper Huallaga are used by drug traffickers," she said, according to Inforegion. Young people are lured with promises of better opportunities, to work in coca growing areas further away and especially to transport drugs within the country and even abroad.
 "The rural farmers are victims of human trafficking, they are captured… and forced to cultivate coca."
This week, a leader in the indigenous Ashaninka community, Americo Cabecilla, reported this specific situation in the regions Huanuco and the eastern slopes of Pasco, where traffickers coerce indigenous men and women to grow coca as there are few other opportunities for work.  The Ashaninka are forced to grow coca by what Cabecilla described as Shining Path narco-terrorists, and then when they are arrested by police they are often left in prison for up to five years without sentencing.
Peru is one of the world's top producers of coca, which is used to turn out cocaine.
Earlier this week, an indigenous leader in the VRAEM said that security had deteriorated in the area and that many Ashaninka people were being pulled into the drug trade. Traffickers convince indigenous men and women to grow coca as there are few other opportunities for work.