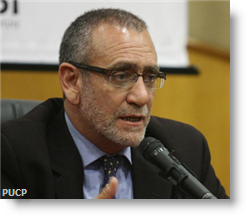 Peru's Institute for Press and Society, IPYS, called on the government to investigate the murder of a journalist over the weekend, and not write it off so quickly as the result of a botched robbery.
In an interview with Ideeleradio, IPYS President Alvarez Rodrich said that it is too early to say that the murder of Fernando Raymondi, a young reporter with leading news magazine Caretas, was a robbery that went bad.
Fernando Raymondi, 22, who was studying journalism at Lima's San Martin de Porres University, was killed in his father's dry goods store in Cañete on Sunday night.
Initial police reports said that Raymondi was shot by two delinquents in an attempted robbery of the store, that one of the thieves had recognized Raymondi and shot him as they fled.  Police chief Jorge Flores said it was "an intended robbery with the consequence of a death."
Alvarez Rodrich, a well-known journalist in his own right, questioned whether the case should be closed so quickly considering that Raymondi was investigating sensitive news stories.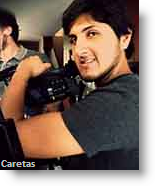 Raymondi, who was working in Caretas' investigation unit, at the time of his murder was working on a story on gangs that extort construction companies in Cañete. He had previously worked on stories about the relationship between Congressman Jose Leon and a Mexican drug trafficker, as well as on the violent eviction that led to the death of a homeowner in Cajamarca by police.
"I'm not in a position to say whether we are talking about a murder during a common crime or some case of assassination as a consequence of the investigations that the young man was doing," Alvarez Rodrich said. "There are indications, on one side, that among various stores they chose that specific one [belonging to Raymondi's father]. Second, the thieves didn't steal anything. And third, there is the investigation that he was carrying out."
"As a result, I would ask the Ministry of Interior to be very careful with this case and not to act so quickly to say it is a common crime and case closed," Alvarez Rodrich added.
Raymondi is the second Peruvian journalist killed this year, and at least the fourth during the past two years, according to The Associated Press.