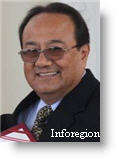 Police in Peru's northeast region of Amazonas are looking for a 15-year-old assassin who is accused of killing a high-ranking official from the regional government over the weekend, daily El Comercio reported.
The Vice President of Amazonas, Augusto Wong, was shot to death on Saturday while he was at his private health clinic in the town of Bagua. A hidden camera recorded the 15-year-old entering the clinic and shooting Wong, El Comercio reported.
Police and prosecutors reviewing the video say the youth acted professionally and is believed to be from the coastal cities of Chiclayo or Trujillo, which have in recent years become known for high levels of violent crime. Some of the most notorious of Peru's young criminals, including a minor known as "Gringasho," have come from the north coast cities.
Peru's Interior Ministry has sent specialized police agents to Bagua to assist with capturing the suspect.
Wong, 59 years old, was the son of a Chinese immigrant and his mother was the north coast Piura region.
State news agency Andina said Wong had been receiving threats from a gang seeking extortion. His house was shot up by individuals in February 2012.
El Comercio also reported that police are looking at another motive for the killing. Police are investigating the possibility that the murder was related to a fight Wong had with members of his political party.