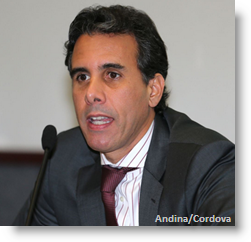 Production Minister Piero Ghezzi said that Peru's economy had an unlucky year, but was confident that it would rebound in 2015, daily Gestion reported.
"We had some bad luck this year," he said. "The economic deceleration isn't an economic crisis. Other countries would like to grow like Peru has."
"This deceleration is a wake-up call that says that 'We weren't so good,'" Ghezzi added. "It allows us to focus and do things, to realize economic development was not inevitable."
Peru's mining-heavy economy was driven over the past decade by a boom in demand for commodities such as copper by China and other emerging markets. As China's growth has slowed down, the price for commodities has fallen, hurting Peru's export income and its overall economy.
Besides the weaker external situation, analysts say the economy has been hit by a sharp drop in public investment due to allegations of corruption  in regional governments that have held up public works projects.
In the first eight months of this year, the economy has grown by less than 3%, compared to full-year growth of 5.8% in 2013. It hit rock bottom in June, posting just 0.3% growth.
The government has passed a number of packages aimed at supporting the economy by shoring up investments, and the fourth package was sent to Congress this past week.  It is also planning to increase spending.
Ghezzi, an economist who previously worked at Barclays Capital, said the countercyclical policies will help the economy to grow by about 5% next year.  Ghezzi said the impact of the new measures will be felt in the first quarter of 2015.
"Peru can sustainably grow at 5%," he said, adding that annual growth of 7% isn't out of the question.