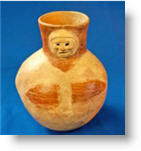 The United States government on Thursday returned to Peru 14 pre-Columbian and colonial art pieces that had been stolen or looted, according to Radio Programas.
"These pieces of art that have been recovered are part of our cultural legacy as a nation but, of course, they belong to all of humanity," said Harold Forsyth, Peru's ambassador to Washington D.C.
The objects include nine Cusco-school religious paintings, from the 17th and 18th centuries, that came from Peru's southern Cusco region, a whistling pot from the Chimu culture, an Andean textile that may have been used as a woman's belt, as well as pieces from the Moche culture.
Two of the paintings were on sale at an auction house in Austin, Texas, while the seven other paintings were on sale in a gallery in Houston. The other pieces were recovered in New York, West Virginia, and in Wilmington, Delaware. The whistling pot and the Andean belt were for sale on eBay.
"These objects, which include pre-Columbian pieces that are 1,500 years old and paintings from the 17th and 18th centuries, return today to their legitimate owner, Peru," said John Morton, the director of U.S. Immigration and Customs Enforcement.
"Our action shows our commitment to collaborate with essential allies, like Peru, in fulfilling our international responsibilities," said James Cole, the deputy attorney general of the U.S.