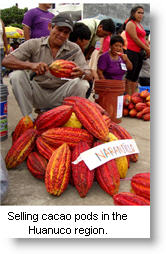 The United States is planning to increase spending on programs aimed at developing alternative crops in Peru, part of an effort to combat drug production and trafficking, according to U.S. Ambassador Rose Likins.
"For next year, our plan is $85 million under the bilateral cooperation agreement. We are well positioned in the projects that we are carrying out and we will continue mainly with these programs," state news agency Andina reported Likins saying.
Alternative crops that are promoted in order to eradicate the illicit production of the coca leaf – the raw material used to make cocaine – include coffee and cacao.
Peruvian authorities have recently called for greater international aid to combat its growing coca production. In September, President Alan Garcia said the problem was a result of a lack of aid to combat the illicit activity and blamed the United States for focusing too much on Colombia.
One of the major difficulties faced by farmers who are willing to grow alternative crops, besides pressure from coca producers and drug traffickers, is to secure markets for their produce. Too often, government authorities have not sustained the support needed to help the farmers gain a strong footing in local and especially export markets for their products.  Coffee and cacao, however, are enjoying increasing success.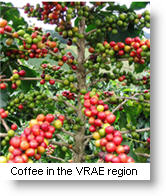 Peru recently overtook Colombia as the world's top grower of coca leaves, according to the UN's World Drug Report 2010. In 2009, Peru produced 119,000 tonnes of coca versus 103,100 tonnes in Colombia.
Most of Peru's production is focused in two regions – the Upper Huallaga Valley in Huanuco department and the isolated areas that cover the Apurimac and Ene river valleys, known as the VRAE, that straddle the departments of Ayacucho, Cusco and Junin.