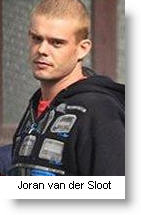 Peru and the Netherlands have signed an extradition agreement that may allow Dutch citizen Joran van der Sloot to serve his sentence in the Netherlands.
Peruvian Foreign Relations Minister Jose Antonio Garcia Belaunde signed the agreement with his Dutch counterpart, Uri Rosenthal, on Thursday, daily La Republica reported.  The main reason for the treaty is the prison terms of Dutch nationals serving sentences for drug-related convictions.
"At the request the judiciary, Peru could turn over prisoners to finish their sentence in their country of origin," Garcia Belaunde said.
There are currently 68 Dutch prisoners in Peruvian prisons, the second highest nationality among 664 European inmates after Spain, according to Radio Netherlands. Most of the prisoners are serving sentences related to drug trafficking.
However there are a few that have been convicted or charged with murder, including Van der Sloot.
Van der Sloot is being held in connection to the 2010 slaying of Stephany Flores, a 21-year-old University of Lima business administration student.
His lawyer, Maximo Altez, said Van der Sloot may be eligible for an extradition under the treaty.
Van der Sloot plans to plead guilty to the Flores murder under the argument of the "violent emotion" defense, which would give a sentence of up to five years, compared to 25 years in prison for a first degree murder sentence.
"If [Van der Sloot] gets five years, I would recommend that he goes to his home country. If he gets a higher penalty, we must examine the matter," said Altez.
Van der Sloot is also the prime suspect in the disappearance in Aruba of US teenager Natalie Holloway.