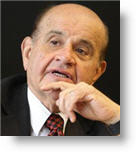 Peru's biggest business group, Confiep, expects Peru will be able to weather the impacts of the international economic crisis, state news agency Andina reported.
A sovereign debt crisis in Europe, a struggling U.S. economy and a slowdown in economic growth in China are all factors that are having an impact on the global economy.
Peru has started to feel the impact of the slowdown, as lower metal prices drag down export revenues in recent months. Nevertheless, other economic indicators continue to point to strong growth.
Finance Minister Luis Miguel Castilla, for example, said Peru's economy has grown more than 6 percent in the first half of 2012. Economists from the Central Bank estimate that the country's GDP rose 5.8 percent in the January to June period.
Humbero Speziani, the president of Confiep, said the challenge is to maintain this growth going forward. "For me it is excellent news, given the circumstances. I hope that we can maintain it during this year, that is the challenge that we have," Speziani said. "I believe the international impact isn't going to be very strong in Peru," he said.
Speziani said that Peru needs to minimize the effect of social conflicts, which have delayed some mining projects and could affect the investment climate.
"Given the circumstances, 6% [growth] is impressive," Speziani said. "Compared to other countries, growth is going very good and we should continue it. We have to minimize the effects of social conflicts."