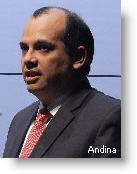 Economy and Finance Minister Luis Miguel Castilla came out hard against a report by Citibank saying that Peru's government could use fiscal spending to support the presidential election of First Lady Nadine Heredia in 2016.
"We completely reject any populist maneuvering," said Castilla, in comments reported by daily Gestion."I would ask those who did this analysis to please inform yourselves a little better about the strengths of our country," the minister added.
Citibank issued a report this week saying that it considers the most important political initiative by President Ollanta Humala and his administration to be a push for the election of Heredia in 2016.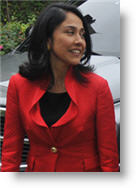 Under Peru's constitution, Humala cannot run for consecutive terms in office, while a law would also prevent any immediate family members from running in the 2016 presidential election. However, some analysts remain convinced that the government will seek to change that law in order to allow the highly-popular first lady to run for office.
Citibank said it believes that the administration will use fiscal spending to boost its popularity, opening a path for the law to be changed.
"We think that the Humala administration could put fiscal policy to work in favor of the marital reelection. In that vein, we would expect fiscal expenditures to pick up. The presidential couple's popularity has been declining and therefore some boost is needed," Citibank said.
Citibank added that: "Concerns about the marital reelection could increase if Peru's output were to decline. If potential output is sliding, the main question becomes what is the Humala administration prepared to do to push up growth again to secure the marital reelection."