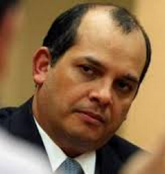 Economy and Finance Minister Luis Miguel Castilla said that Peru's economy will recover in 2014, thanks to new mines and infrastructure projects.
"There are indicators that are showing a change in tendency in the fourth quarter of this year. It appears that we've touched bottom in the third quarter, and in particular in September," Castilla said, according to daily Peru.21.
Castilla said that in November there has been a recovery in electricity output, a sign of economic growth. There has also been an increase in tax collection, credit to the private sector and imports of capital goods, which are other indicators of economic activity.
Castilla said there are four reasons for the improvement in the economy. These include the improvement in the global economy, particularly the US, Europe and China, the startup of new mine projects such as Toromocho and Las Bambas, new infrastructure projects will also support growth, and the recovery in business confidence.
"We had a complicated third quarter due to the external situation and now business confidence is recovering," he said.
Peru's economy will likely grow slightly more than 5 percent this year. The economy grew 6.3 percent in 2012 and 6.9 percent in 2011.