Gerald Oropeza, a young drug trafficker whose high lifestyle only became public knowledge when someone tried to blow him up in his white Porsche five months ago, is now behind bars in the maximum security wing at Piedras Gordas in Ancon, north of Lima.
His arrest this past weekend in Salinas, Ecuador opens up a barrage of allegations that will undoubtedly involve not only police but the judiciary, political figures and even government offices such as Sunat, the tax authority.
Among the charges he faces are tax evasion, money laundering and drug trafficking, in which he has played a key role in shipments from Callao and northern Peru to Europe and Mexico.
The attempt on his life in April was allegedly made by hit men for a Mexican drug cartel.
Eight other people are under investigation with Oropeza, four of whom are already under arrest, including one in Naples, Italy.
Oropeza was a card-carrying member of the Apra party until July this year, as was his mother Pilar Lopez (a one-time candidate for Congress), and his late father had also been an Apra candidate for mayor of San Juan de Lurigancho.  A long-time business associate is Facundo Chinguel, an Apra member currently on trial with 15 other people for processing presidential pardons for hundreds of drug traffickers in exchange for payments of $10,000 and more.
The government is calling this arrest a police success of careful intelligence and a heavy blow against drug trafficking and organized crime.
Government opposition, however, suggests that the arrest is a smoke screen to cover up the politically charged matter of the diaries stolen from First Lady Nadine Heredia, which allegedly contain damning evidence of corruption.
"The diaries will not be covered up, no matter how many Oropezas they capture," said one of Apra's key leaders, Jorge del Castillo, to Canal N. "Apra has nothing to do with Oropeza. He signed up some time ago and then was expelled.  The responsibilities are individual."
Alberto Otarola, the head of Devida, the drug enforcement commission, said this week that Oropeza's capture will allow the state attorney's office to discover "the political and international ramifications" of Oropeza's drug trafficking activities.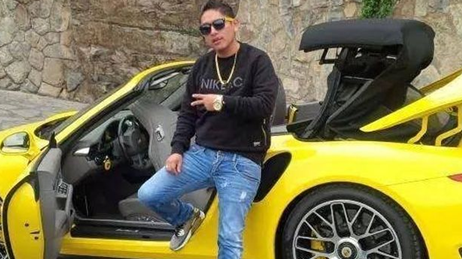 How easy this will be remains to be seen.
Rosa Mavila, president of the Congressional commission looking into the links between political parties and the drug trade, said that "One of the curious things that came out of our investigation is that just a few months before he was discovered, Oropeza had bought an election kit"from the National Elections Board, JNE, to collect signatures for future elections.
Also curious is the fact that Oropeza has been able to lead a very high profile lifestyle with scant suspicion.  His cleaning company allegedly invoiced around S/.10,000 a month, hardly sufficient to pay for his two Porsches and a Ferrari plus a large property in Chaclacayo that had a government embargo but he was able to acquire during President Garcia's administration.  His cleaning company had a contract with the Palace of Justice, to clean court offices, and with the Serpost postal service, both contracts obtained during the Garcia administration.
Yet, as journalist Rosa Maria Palacios points out in her blog, nobody seems to have investigated him earlier.  Palacios herself has had Sunat on her books, and the corner bodega in her neighborhood was closed and slapped with a fine for not issuing a receipt for a grocery purchase, but Oropeza seems to have been untouchable.