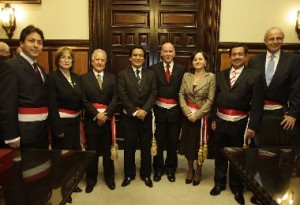 President Alan García swore in Education Minister Jose Antonio Chang as Peru's new prime minister on Tuesday, in what is possibly the final Cabinet shuffle of his administration.
Chang will do double duty, becoming the head of the Cabinet, while maintaining his top position in the education ministry, according to state news agency Andina.
The change in Peru's Cabinet came after the previous primer minister, Javier Velasquez, announced his resignation and plans to run for president in 2011.
The Cabinet shuffle was earlier than expected — candidates for Congress and the presidency in the next general elections (April 2011) must resign from their government posts by October this year — but undoubtedly President García saw this week as an opportune moment for a change of air.
The public and congressional uproar over his four executive decrees governing military and police criminal trials, which also led to Mario Vargas Llosa's resignation from the Museum of Memory commission, were forcing his hand to fire at least two of his ministers, Justice Minister Victor Garcia Toma for criticizing the laws he himself had signed, and Defence Minister Rafael Rey for defending the laws and admitting that ex-President Fujimori's lawyer was consulted on the legislation's design.
Eight cabinet positions were changed by Garcia in a palace ceremony late Tuesday afternoon. Ismael Benavides, who previously served as García's Agriculture minister, was sworn in as the Economy and Finance minister, replacing Mercedes Araoz.
The president of Essalud, Fernando Barrios, is the new Interior minister, replacing Octavio Salazar.
Justice Minister Victor Garcia Toma, who was sworn into his position last March, has been replaced by Rosario Fernandez, who previously held the position in García's second year.
The founding president of the agricultural company Talsa, Rafael Quevedo, was sworn in as the new Agriculture minister, replacing Adolfo de Cordova, while the Production ministry will be headed by Jorge Villasante, who replaced José Nicanor Gonzales.
The new Foreign Trade and Tourism minister is Eduardo Ferreyros, replacing Martin Perez, who has expressed interest in running for Congress.  Ferreyros joined the ministry during the Toledo administration and has been vice-minister of foreign trade since 2007, leading negotiations in several free trade agreements, including the FTA with the United States, and the current negotiations with Canada.
The ministry of Women's new head is Virginia Borra, who replaces Nidia Vilchez. Borra headed the ministry at the beginning of García's current administration, 2006-2007, when she was criticized for nepotism.
Jaime Thorne, who was traveling on Tuesday, will replace Rafael Rey as the country's Defense minister. Thorne was head of the consumer protection and copyright institute, Indecopi.
The new cabinet includes:

Cabinet Chief and Education Minister: Jose Antonio Chang
Foreign Affairs Minister: Jose Garcia Belaunde
Economy and Finance Minister: Ismael Benavides
Defense Minister: Jaime Thorne
Interior Minister: Fernando Barrios
Health Minister: Oscar Ugarte
Minister of Women: Viginia Borra
Justice Minister: Rosario Fernandez
Agriculture Minister: Rafael Quevedo
Labor Minister: Manuela Garcia
Production Minister: Jorge Villasante
Foreign Trade and Tourism Minister: Eduardo Ferreyros
Environment Minister: Antonio Brack
Culture Minister: Juan Ossio
Mines and Energy Minister: Pedro Sanchez
Transportation and Communications Minister: Enrique Cornejo
Minister of Housing: Juan Sarmiento