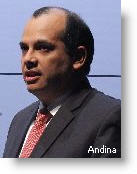 Finance Minister Luis Miguel Castilla defended the government on Monday from suggestions from the country's biggest business group that public policies threaten to undermine the investment climate.
President Ollanta Humala's administration has come under attack recently over recent comments by the President regarding media ownership in Peru. Humala said in a year-end interview that he was concerned about media conglomerate Grupo El Comercio's acquisition of a competitor.
The acquisition gives El Comercio an almost 80 percent share in the newspaper market. Another media company, Grupo La Republica, filed a lawsuit against El Comercio to have the acquisition overturned. It alleges that the takeover is monopolistic, which El Comercio denies.
Over the weekend, the business group Confiep said it was concerned that the government's recent policies were hurting business confidence in Peru. A decline in business confidence would likely have an impact on investments, which in turn would hurt economic growth.
On Monday, Confiep's President Alfonso Garcia-Miró said that business confidence would be impacted if the government tried to pass legislation regarding media ownership. President Humala's government has denied it plans to do so.
"If these decisions or initiatives materialize, it will create an immediate impact on the confidence and, as a result, investments in Peru," he said. "The opinion of Confiep reflects the concerns of all business owners, not the opinion of one person or the federation."
Garcia-Miró's statements had been questioned because he is a member of the Miró-Quesada family group that owns El Comercio.  However, he also criticized the Congressional bill to regulate the creation and administration of state and private universities, which he said also threatens private enterprise.
In a radio interview Monday, Finance Minister Castilla denied the government was changing its market-friendly policies. Castilla told RPP Radio that President Humala's comments were aimed at sparking a debate about media ownership, freedom of expression and press freedom in Peru, but denied any other accusations.
"I don't see any storm clouds on the horizon, what I see is a national debate that the President has put on the table," Castilla said. "Now, to jump from that to say that there is interventionism or that there is an opening for a change in policies, that is completely false and far from reality."
An economics graduate of McGill, Harvard and Johns Hopkins universities, Castilla served as vice-minister of Finance in Alan Garcia's second administration and is highly respected in Peru's business sector. His appointment as Finance minister by President Humala in 2011 was a sign that the President would maintain Peru's business-friendly policies that have led to a decade of robust economic growth.