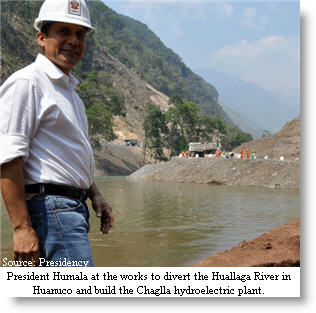 President Ollanta Humala, during his visit to the region of Huanuco, said the best way to defeat remnants of violent guerrilla groups is through development and infrastructure, state news agency Andina reported.
Humala pointed to the hydroelectric project in Chaglla, located in Huanuco, which he says will help bring peace to the region located where the Andean mountains meet the Amazonian jungle.
He said the project will change the lives of the people in Huanuco because it will provide electricity and help develop the agricultural alternatives to coca.
The 360MW hydroelectric plant is being built by the Brazil-based Odebrecht for Empresa de Generación Huallaga, which is an Odebrecht unit. Work on the project, which is to cost $1.2 billion, began in May 2011 and is to take five years for completion.
Coca leaves, the base for producing cocaine, are grown widely in parts of Huanuco. The region has been home to a splinter group of the Shining Path, a violent Maoist-inspired guerrilla group that wreaked havoc on Peru during the 1980s and early 1990s.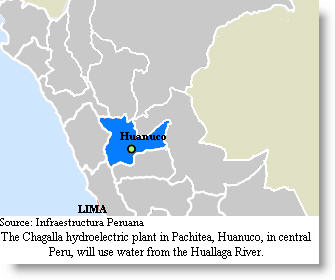 "The best way to combat remnants of terrorism is with development," Humala said. "Works like this in areas that were battered by terrorism, consolidate peace," he added.
The Shining Path group in Huanuco was dealt a major blow earlier this year with the capture of its leader, Florindo Flores.
Flores, also known as Comrade Artemio, was the last remaining member of the Shining Path's central committee that had not been arrested or killed. He is now being held at the maximum security Callao Naval base prison, along with other high-profile inmates such as Shining Path founder Abimael Guzman and former Peruvian spy chief Vladimiro Montesinos.
The other Shining Path splinter group is located further southeast,  in the Apurimac and Ene river valleys, or VRAE, which is Peru's top coca producing region. That group, which is led by the Quispe Palomino brothers, largely controls the VRAE and regularly kills police officers and soldiers stationed in the region. Efforts to root out the Quispe Palomino-band have been met with deadly attacks on Peruvian security personnel.
Both Shining Path groups have been able to survive years after its founder, Guzman, was arrested thanks to the profits it receives from the multi-billion dollar cocaine trade.