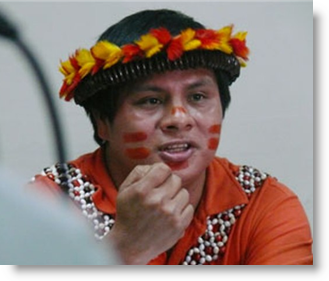 Indigenous people in Peru's northeastern Amazon are taking legal action to block oil exploration in a concession that overlaps with their territory, daily La Republica reported.
The appeal for legal protection was presented by the Amazonian Center for Anthropology and Practical Application, CAAAP, after all administration options were exhausted with the Mines and Energy Ministry and the Culture Ministry, according to lawyers representing the organization.
Members of the Awajun and Wampis indigenous communities said that Block 116 in the Santiago Basin in Loreto  superimposes the land of 73 communities.
"The state should have, at the very least, coordinated with us," said Wrays Perez, a representative of the groups. "In the environmental impact study it just considers that there are three communities."   The communities have been trying to gain some form of recognition of the issue from the government authorities since as early as 2008.  In 2012, Perez said on Ideeleradio that advisors in the Cabinet Chief's office at Government Palace manipulated indigenous leaders to divide them.
"The right to consultation is constitutional," said Perez, who added that their water and forests have been contaminated by the oil companies.
The indigenous communities are being supported by the National Coordinator of Human Rights.
Block 116 is to be developed by oil firms Maurel Et Prom of France and Pacific Rubiales which is quoted on the Toronto and Colombian stock exchanges.
Ananias Shawit, a member of the Shawit Indigenous Federation, said that the arrival of oil companies to their land has divided the indigenous communities.
"Before the arrival of the companies we were united," Shawit said. "We shared the same fight, but the company has created divisions."
Peru's push to open up the Amazon rainforest to oil and gas exploration and development has created serious conflicts, including the violent confrontations between police and indigenous people in 2009 in the province of Bagua, in the northern Amazonas region.