By Nicholas Asheshov ✐
Let's get straight to the point. Pedro Pablo Kuczynski — tough, experienced, knowledgeable — today has a good shot at becoming the next President of Peru.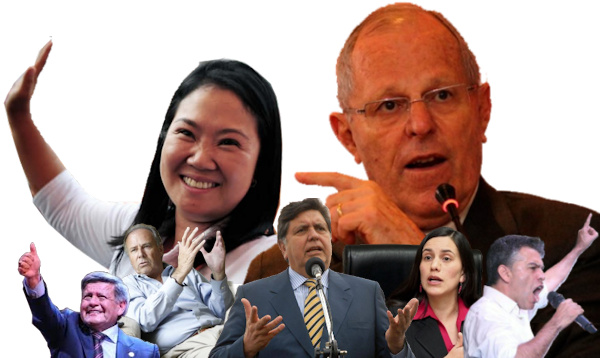 He goes into the final four weeks of the election campaign with 14 percent support, according to IPSO, ahead of everyone except Keiko Fujimori, the distant front runner.
The change is a direct result of decisions by the elections board last week, which removed a couple of noisy rivals.  These, Julio Guzman and Cesar Acuña, had, true,  over the first two months of the year livened up a listless campaign.  But the Board ruled last week that Guzman had not complied with the registration and procedural rules.  Acuña was judged to have broken rules prohibiting out-and-out vote-buying.
Back in the race
As things stand Kuczynski, 77, will come in second in a first-round election on April 10. This will entitle him to a runoff on June 5 against the first-round favorite, Keiko Fujimori.
In this second round Kuczynski could unite and lead the anti-Fujimori voters to pip her at a post she has for years regarded as hers. The new government takes power on July 28, Independence Day, for a five-year term.
The decisions by the Elections Board  have revived a Kuczynski  campaign which had flagged against newer faces.
Kuczynski's polls figures had been steadily slipping since Christmas when he was showing 16 percent. PPK, as he is known, had fallen to 9 percent by the middle of last week.
But the Elections Board, after a  No-Yes-No shilly-shally, last week gave a final final No No to the candidacy of Julio Guzman, a lively new face, with a U. of Maryland PhD, from the highlands behind Cuzco,  who had shot from nothing to 18 percent and rising in the first two months of the year.
The election administrators warned TPP to put things straight at the end of 2015, but, careless or arrogant or both, the party failed to do so. For weeks there has been a well-ventilated public row about whether these requirements are mere bureaucratic form-filling, or whether they are on the whole reasonable requirements for people who propose to run the country.
The elections board decided that the rules are the rules. Guzman has continued to appeal in the name of democracy. His main backers have been MacroConsult, Peru's long-time top financial advisors, millionaires all — they made their original fortunes under Alberto Fujimori — and the Belmont Anderson group, on the Forbes list of world billionaires.
The half-baked nature of the Guzman organization was reflected in his inability to put together a list of party candidates for the Congress. The electoral authorities, in decisions separate from the ban on his own candidacy, refused to accept many of his candidates on the grounds they had criminal charges pending against them, and the like. He could field only half a list, with the big Lima list judged unacceptable.
The Board also crossed names off the candidates list of Acuña, a colorful rich cacique from Trujillo. Acuña, 60, openly bought votes in front of the TV cameras.
There is camera documentation that he had been accustomed to largesse in his campaigns for alcalde and for regional governor in Trujillo in years past.  But a new law, part of new election laws passed by the Congress in the latter part of 2015, was specific to the effect that candidates cannot hand out cash or kind beyond T-shirts and the like.
But Cameras showed Acuña, who had publicly declared an annual income of $16 million as owner of a couple of provincial universities, handing out S/.10,000 in Chosica to market mammies, a la Godfather.
Electioneering the world over
Acuña, is, unlike Guzman, socially unacceptable in Lima for, among others, underage rape accusations.  He also was accused of spitting on and beating up a wife who is a member of the Congress in Lima. Mrs. ex-Acuna is today on Kuczynski's congressional candidate list.
A month or so ago, too, it turned out Acuña had bought, cash down, his PhD from a once-respectable university, in Madrid, plus, a couple of degrees in engineering from universities in Colombia and Trujillo for good measure. Acuña's A/B acceptance in A/B circles was not helped by his statements he had "never read a book in my life," and videos of him offering followers "cash like popcorn" should he be elected.
Polls show Kuczynski, PPK, has moved into second place behind — a long way behind — Keiko Fujimori, 39. Fujimori has polled a consistent 33-35 percent since even before the campaigns began last year.
The general election on Sunday, April 10, will be to choose a president and, at the same time,  lawmakers for the 130 seats in the Congress.
The voting for the Congress is once and for all.
For president, however, the top two candidates, supposing no one gets past 50 percent, go to a run-off in June.  Fifty perecent+one wins the presidency.
The office running the elections, ONPE, originally said it had to start printing the 23 million ballot sheets on March 12 to be able to finish the print run and distribute them in time for April 10.
However, a former head of ONPE says there is "quite a lot" of latitude left timewise.
It is unclear why they will print 23 million as the official figure for the population of Peru is 30 million, of which half are 18 and under, and not eligible to vote.
The former ONPE man says the 23 million is what the ONPE will print because they suspect the census figures may underestimate a true total of 32-33 million Peruvians.
This still does not address the issue as the voters for the 2011 election were 13 million.
It was not immediately clear what the elections people propose to do with the millions of surplus ballot sheets. All voters are registered, with names and places precisely recorded.
The Also Rans
Beyond Keiko Fujimori and Pedro Pablo Kuczynski, there are a dozen other candidates for the presidency, down from an original 19, or maybe it ws 21.
The new elections regulations have increased the requirement for signatures for a party. A party that does not get 5 percent of the total vote will lose its registration.
King of England
Behind Kuczynski are three significant also-rans running for the presidency, each with between six and nine percent support, according to the polls.
One is Alfredo Barnechea, 63, a P.R. man and political dilettante, representing Accion Popular, an old-time party which rose and fell with Fernando Belaunde, twice president in 1964-68 and 1980-85.
Barnechea has told TV viewers he has a library of 15,000 books. They occupy a space much bigger than the homes of most of the voters. Footage of Barnechea visiting markets give the impression he has not been in one of these until now. His VP running-mate, the lively congressman Vitocho Garcia Belaunde, told him last week, "Alfredo, you are running for president of Peru, not King of England."
Bernechea was an Apra congressman from 1985-90. He married at that time the wealthy step-daughter of Javier Perez de Cuellar, Secretary General of the United Nations.
Another figure from the past is Alan Garcia Perez, president from 1985-90 and again from 2006-2011. His once-powerful Apra party has virtually disappeared and he has had to form an alliance with former enemies, most notably Lourdes Flores, a chatty lawyer, formally of the conservative Popular Christian Party. She has yet to win an election for anything beyond the Congress itself.
Garcia appears on the TV as well past his best, sadly overweight his once-effective oratory sounding today out of date and waspish rather than sharp.
The only left wing candidate with poll numbers is Veronica Mendoza, 35, a half-French, Paris-educated congresswoman from Cuzco who says that Venezuela's Chavez and Argentina's Cristina Kirchner are the way to go.
Lima's leftwing remnants have no time for what even they have come to accept as out-of-date, nonsense. They, and others, including Fujimori and PPK himself, may be underestimating Mendoza and the size and focus of her constituency in these final weeks of the campaign.
Mendoza, a lively congresswoman from Cuzco, is only five or six points behind PPK and is the only representative of the Left, easily still the biggest community of voter interest.
Mendoza has long been associated with President and Mrs Humala, and with the extreme anti-mining factions, which have produced deadly riots preventing the construction of billion-dollar mines like Conga and Tia Maria. Also, with hundreds of thousands of illegal gold miners in the mountains and jungle.
These and other less violent left-wing interests, including for instance construction and teachers' unions, are numerous and powerful.
Mendoza, who handles herself well on TV, could see this archipelago of interests coalesce around her, as they did in 2006 and 2011 around Mr. and Mrs. Humala.
She might also pick up some of the one of every five voters, many of them Peru's young millennials, who had flocked to Guzman. By the elections in less than a month, Guzman will be forgotten. But he, too, was a langlaufer, front runner for the Humalas. He was for a couple of years cabinet secretary in the Government Palace, an administrative job which brought him into contact with the presidential couple. His VP running mate was Juana Umasi, a dental assistant in the inner circle of the Humalas.
Pedro Pablo Kuczynski, a scholar and M.A. from Exeter College, Oxford, general manager of the Central Bank in Lima in his mid-20s, a former minister of Finance, of Energy & Mines and Prime Minister, as well as a Wall Street banker, and executive president of CS First Boston, is understood to be by far and away the best-qualified candidate for the presidency.
Fujimori "a nasty surprise"
Kuczynski, who is trilingual in French, English and Spanish, is especially better-qualified than Fujimori, who has an undistinguished background as an often-absent congresswoman who produced no worthwhile legislative initiatives. She handles herself well in front of the TV and on the hustings. However, her party, Fuerza Popular, has only a short handful of talented people and its platform consists of run-of-the-mill platitudes.
So far PPK has been careful to be nice about everyone. From now on, however, he knows he must acquire for himself a chunk of the 44 percent of voters who have told IPSO lately that they will under no circumstances vote for Fujimori.
This includes getting across to the A/B class in Lima the message that a Fujimori victory would be "a nasty surprise."
Nick Asheshov was editor of the Andean Air Mail & Peruvian Times during the 1970s and 1980s, and of The South Pacific Mail, Santiago during the 1990s.  He was Latin America Editor of Institutional Investor, New York over the same period.  He lives in Urubamba, where he writes a blog and where he has been prominent in the hotel and railway business.