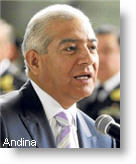 Peru's Interior minister, Wilfredo Pedraza, is coming under pressure to step down, after a prison escape of five dangerous criminals that has set off a massive manhunt, as police send out thousands of police officers to track down the individual
On Wednesday, Lindomar Hernandez, on trial for the murder of a photojournalist, escaped with other inmates from the Lurigancho prison in Lima, where he had been transferred for the day for a court hearing, from the Piedras Gordas prison at Ancon in north Lima.  According to some reports, the prisoners had been given a crowbar to get out of the prison annex, allegedly by Hernandez' lawyer in collusion with prison guards.
Hernandez was arrested for the murder of Luis Choy, a photojournalist with daily El Comercio. Choy was killed in broad daylight outside his home in the middle-class Pueblo Libre district. Two other inmates involved in Choy's murder also escaped with Hernandez. The murder was one of two high-profile killings in February that set off a heated debate about security in Lima.
On Thursday, opposition lawmakers called for Interior Minister Wilfredo Pedraza to resign, daily El Comercio reported. Pedraza had said the previous day that the inmates were able to escape due to "complicity from police."
Pedraza had already been facing heated criticism over allegations that police are spying on political opponents, a claim that the minister and other high-ranking government officials deny.
Peru's National Police said Thursday that it was sending out 3,400 officers to search for Hernandez and the other escapees.
"We are checking interprovincial transport units, and also private vehicles," said Col. Rodorico Cubas. "So far there isn't any news, but the criminals will fall soon."
On New Year's Eve six months ago, 27 young inmates, including a notorious, under-aged hit man, escaped from the juvenile reformatory known as Maranguita in Lima's San Miguel district.