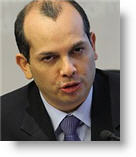 Peru's government expects to approve a package of legislation in the following weeks aimed at increasing the country's tax base, state news agency Andina reported.
"I imagine that in the following weeks we will approve the package of norms in the cabinet and we will submit it to Congress for its discussion," Economy and Finance Minister Luis Miguel Castilla said.
Castilla said the government does not intend to increase taxes on any sector, but rather to raise the tax base by improving administration and decreasing tax evasion.
"There are a lot of ways to attack the pockets of segments that don't pay taxes, by the strengthening of [tax agency Sunat] and risk intelligence," Castilla said.
Castilla said independent workers are among those most likely to avoid paying taxes. "There are pockets that Sunat has identified," the minister said.
Peru is looking to increase its tax base to 18 percent of gross domestic product by 2016, compared to the current rate of approximately 15 percent.
"The idea is a head-on attack on evasion, which is very high in the country," said Castilla. "Tax evasion should be reduced in order to achieve greater fiscal resources that finance the Public Treasury and social programs."