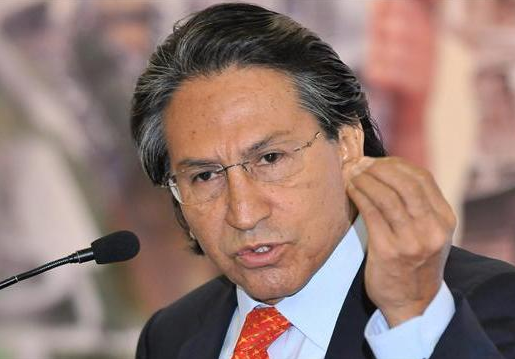 Sixteen years after leading a 200,000-strong protest march against corruption and electoral fraud, former President Alejandro Toledo now faces an order for his own arrest. There is also a price on his head — $100,000 for information leading to his arrest.
During his presidency, Toledo allegedly received $20 million in bribes from the huge Brazilian contractor Odebrecht, according to a confession by the contractor's executive director in Peru, Jorge Barata. The testimony has been corroborated by information given earlier by Odebrecht to the U.S. Justice Department.  In Lima, the state attorney's office has traced $11 mn directly to Alejandro Toledo.
The bribe, confessed Barata, was to secure that Odebrecht would win the bids to build sections II and III of the 2,600km Inter-Oceanic Highway between Peru and Brazil.   This information matches the data given by the Brazilian firm to the U.S. Justice Department.  The bribe was paid over a period between 2005 and 2008 to offshore firms managed by Josef Maiman, a close friend of Toledo's.
http://rpp.pe/politica/judiciales/este-es-el-documento-que-incrimina-a-toledo-con-los-sobornos-de-odebrecht-noticia-1028576?ns_source=self&ns_mchannel=articulo.943263&ns_campaign=content.temas&ns_linkname=1
Toledo is the first key figure formally investigated in Peru in the Odebrecht bribery scandal known as Lava Jato (pressure wash). Former presidents Alan Garcia, Ollanta Humala and Alberto Fujimori most possibly were involved in bribes for other projects, but there is no information on those investigations as yet.
Reactions to the news have been a mix of schadenfreude from Toledo's political opponents and anger from those who fought with him in 2000 against President Alberto Fujimori's corruption and helped him organize and lead the Four Suyos March, calling people from the four corners of the Inca empire to convene in Lima to protest the dictatorship.
Not the least are his former cabinet ministers, including President Pedro Pablo Kuczynski, who served as Toledo's Finance minister and cabinet chief.
The government is pulling out all the stops to arrest him. It has been able to secure assurance from Tel Aviv that Toledo will not be allowed entry into Israel, with which Peru has no extradition treaty.  Toledo's closest financial advisor is the Israeli-Peruvian citizen Josef Maiman, who now lives in Israel.
And on Sunday, President Pedro Pablo Kuczynski held a telephone conversation with U.S. President Donald Trump.  According to Peru's Foreign Relations Ministry, the conversation  covered a broad number of issues on bilateral relations, but Kuczynski also broached the possibility that the State Department consider the deportation of Toledo to Peru.
Meanwhile, Peru's judiciary has already filed a request in the U.S. courts for the arrest and subsequent extradition of Toledo, as opposed to deportation, and according to Attorney General Pablo Sanchez, an additional report is being prepared to strengthen the case. An extradition, as opposed to deportation which could be quick if Toledo is found and arrested, could take from six months to a year but the details of the investigation by state attorney Hamilton Castro, presented to the U.S. Justice Department, are "quite extensive," Sanchez said.
Last Friday night, Hamilton Castro obtained a search warrant and before dawn on Saturday a special team from the state attorney's office began a seven-hour search of Toledo's house and impounded documents and other materials. One news report said the team used a sledge hammer to gain access to a safe in which they found $33,000 in cash.  Neither Toledo nor his wife, Eliane Karp, were in Lima at the time.
With Toledo now in the judiciary's sights, it is time to delve deeper into Odebrecht relationships with former presidents Alan Garcia and Ollanta Humala, and indeed Alberto Fujimori.  As investigative reporter Gustavo Gorriti at IDL-Reporteros points out, Odebrecht won the bids for 28 projects during President Alberto Fujimori's 10-year administration (1990-2000), more than all the projects combined in the three subsequent administrations of Toledo, Garcia and Humala (2001-2016).