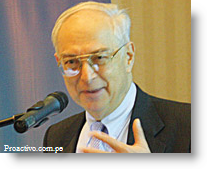 Peru's banking regulator criticized on Tuesday the interest rates paid by banks to clients in comparison to what they charge for credit.
In an interview with financial newspaper Gestion, Daniel Schydlowsky, a Harvard-educated economist, said that the gap is a concern for the country's long-term sustainable economic growth.
Large companies don't have this problem, Schydlowsky said, because they can obtain loans at rates of 4.0% on the local and international market.  It is the individual and small entrepreneur who face this serious mismatch.
According to Schydlowsky, an individual would receive from the banks only 3 percent to 4 percent interest on a deposit of 30,000 soles ($10,800). That same individual would likely be charged a 50 percent interest rate on a similar loan from the banks, he said.
As a result, Schydlowsky said that individuals prefer to invest in real goods, which provide better returns than financial instruments.
"They can buy a house or a cow, since what banks give for their savings is very low and what they charge for a loan is very high," he said. This can inflate prices for some goods, he said.
The challenge is to change this situation in a free market economy, in which the Banking and Insurance Superintendency, SBS, cannot set rates or prices.  Schydlowsky proposes greater transparency, so that the general public can be fully aware of the costs, and by creating broader competition, bringing in new players to the financial system.