A 34-year-old man who has been quarantined in Peru over concerns about carrying Ebola is unlikely to have the virus, health officials said Monday.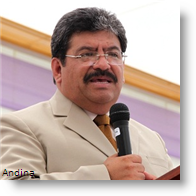 The Health Ministry said that the patient was admitted to the Daniel Alcides Carrion hospital in Callao, Lima's port city, according to RPP Noticias.
The ministry's director general of Health, Henry Rebaza, said it is highly unlikely that the patient, a fisherman from Equatorial Guinea, is infected with the deadly virus.
"The clinical tests are what will finally tell us if it is or not. From the epidemiological point of view, it isn't a case of Ebola," Rebaza said, according to daily El Comercio. "We are taking extreme measures, we are acting as if it were and in the next few hours we will have the results. He isn't a suspected [case]."
Authorities say the man arrived at the fishing city of Chimbote, in the Ancash region north of Lima, on October 9 after a two-month sea voyage.
The fisherman travelled to Lima to board a flight at the Jorge Chavez International Airport in Callao on Sunday, planning to return home, but was stopped when he showed signs of a fever and other symptoms associated with Ebola.
"He's been at sea for the past two months. We aren't talking about a suspected case, because he has been at sea the entire time," said Rebaza. "He doesn't come from an area with patients. Nevertheless, this is an example of the security measures and procedures that we have to take in the circumstances that we are living in, in the country and the world."
The World Health Organization reports that more than 4,000 people have died of Ebola, almost all in the Western African nations of Liberia, Sierra Leone, and Guinea.
Concerns about a global spread of the virus have increased following the death of a Liberian man in Dallas, Texas, shortly after arriving to the US. Authorities in Dallas said over the weekend that a nurse who had cared for the man now had the virus.
There haven't been any confirmed cases in Latin America, but governments in the region have heightened precautionary measures to reassure citizens. Authorities in both Brazil and Chile had also quarantined possible Ebola victims, but confirmed in recent days that they were not ill with the virus.