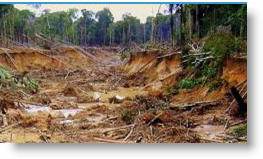 Illegal mining in Peru, which has flourished in the country's rain forest, is on the verge of being a source of financing for armed groups, according to a high-level government official.
Illegal gold mining has caused widespread environmental damage and social problems in Peruvian jungle regions such as Madre de Dios, one of the most biodiverse territories on earth.
Thousands of miners have devastated parts of the region in their search of the precious metal. Satellite images show thousands of hectares of deforestation, while mercury used by the miners has polluted local rivers, the fish that live in them and the people that consume the fish. At the same time, human trafficking and child prostitution are known to flourish in mining camps.
To date, all of the government's attempts to curb the illegal mining has been unsuccessful, partially due to corruption of local officials and the backlash that authorities in Lima face from the thousands of miners when they take to the streets to protest.
Now, however, Peru's government says that miners could start to use the billions of dollars in profits from the illicit activity in order to fund armed groups to defend their interests.
"The risk that we are running is that, to protect themselves, illegal mining  begins to finance armed groups, as in Colombia," said Environment Minister Manuel Pulgar-Vidal.
In comments reported by daily La Republica, Pulgar-Vidal said "we are on the point of this occurring here."
"We need to change the strategy and at least one of these [illegal mining] mafias should be stopped," he added.
Last year, Peruvian consulting firm Macroconsult released a study reporting that illegal gold mining brings in more profits that cocaine trafficking. Drug trafficking in Peru funds  the heavily-armed Shining Path rebels in southern Peru, remnants who bear no relation to the original ideological insurgents and act as drug producers and protectors.