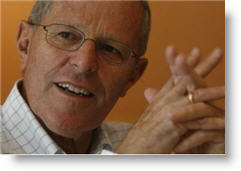 Pedro Pablo Kuczynski, the well-known economist and a former cabinet minister and presidential candidate, said Friday that the huge Minas Conga gold project is "dead" for at least the next few years.
Speaking to Radioprogramas, Kuczynski said the project's successful development is "symbolic" for other mining companies seeking to invest some $50 billion in new projects in Peru.
Nevertheless, Kuczynski, known by his initials PPK, said that Minas Conga will most probably have to remain on hold for the medium term. "Conga is dead, it is buried for at least two or three years," he said, according to Peruvian business daily Gestion. "The gold and copper at Conga  has been there for millions of years and will stay for a while longer," he said.
Kuczynski has held high-ranking government posts, including prime minister, minister of Economy and Finance, and Energy and Mines minister. He also ran unsuccessfully for president in 2011.
Minas Conga is majority-owned by U.S.-based Newmont Mining, the world's second biggest gold producer. It has been at the center of a dispute that has mired President Ollanta Humala's first year in office, over concerns about the project's potential environmental impact.
Opponents say it would dry up the water supply to local farmers, a claim that is denied by the company and, following an independent environmental impact study, also by President Ollanta Humala's government. Both say it would actually boost water access for nearby residents. 
Protests in July led to five deaths when demonstrators confronted police in Cajamarca.  Negotiations at different stages since late last year have been unsuccessful, but talks have been taken up again, now led by the Archbishop of Trujillo, Miguel Cabrejos, who was appointed by the government, and by Father Gaston Garatea, appointed by those who oppose the minng project, including Cajamarca's regional president Gregorio Santos. 
Kuczynski, who has close ties to the business community, blamed the violence on the antimining activists. He said that the antimining campaign in Cajamarca has "created a very hostile environment and this is going to have to be fixed now."