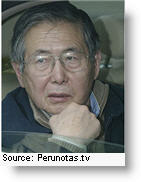 Peru's National Penitentiary Institute has rejected a request by jailed ex-President Alberto Fujimori to give an interview to local media, daily El Comercio reported.
Fujimori, 74, is serving a 25 year prison sentence for crimes committed during his administration in the 1990s. Fujimori was convicted in April 2009 of ordering a death squad to carry out killings, as well as the kidnapping of a Peruvian businessman and a journalist. In July that same year, he was convicted and sentenced to seven and a half years on charges of corruption.  Under Peruvian law, sentences are served concurrently but only up to a maximum of 25 years.
Fujimori is now seeking a presidential pardon from President Ollanta Humala on humanitarian grounds. His family and supporters say he deserves to be released from prison because of his deteriorating health. Over the past three years, during his frequent visits to the hospital for surgery on his tongue, his supporters implied that he had cancer and his life was at risk, but this has been categorically denied by the national cancer institute hospital, INEN, and more recently also admitted by his doctor and former minister of Health, Alejandro Aguinaga. 
Since Fujimori's children announced in September plans to seek the pardon, his supporters have launched a campaign to win over public support for the former head of state. Fujimori's backers have released pictures to the media showing him bed-ridden, while they also released an odd self-portrait with a hand-written apology in reference to his crimes.
More recently, Fujimori has asked to to be interviewed by Raul Vargas, a popular radio personality and the director of news for RPP radio station, to discuss his prison conditions. Supporters of Fujimori say he doesn't have special benefits in prison, although the recent release of photos of his cell —several rooms—with a TV and other goods contradicted this.
Prison authorities in the Andean country turned down the request for the interview over the weekend.
Justice Minister Eda Rivas said she supported the decision. "The penitentiary administration has the authority to decide on these topics, based on issues related to order, security and is impact on the victims," Rivas said on RPP.
Avelino Guillen, a former prosecutor who led the prosecution against Fujimori in 2009, said he also agreed with the denial of the interview request. "The only thing that Fujimori wants is to politicize to the maximum this issue by giving political statements, trying to corner the government to force a pardon," Guillen said.
The scarce possibility of a pardon is also now compounded by the fact that Peru is preparing to try him in a new case, for corruption related to paying and controlling the editorial line of the tabloid press during his administration.