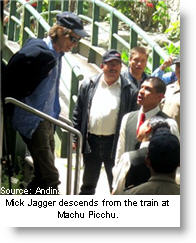 British rock star Mick Jagger arrived at the ancient Inca citadel of Machu Picchu on Thursday, as part of a trip to Peru that has included a sit-down with President Ollanta Humala and a visit to an eco-lodge in the jungle region of Madre de Dios.
The front man for the Rolling Stones, Jagger travelled to Machu Picchu by train from Cusco and was expected to climb Huayna Picchu, the picturesque peak that overlooks the ruins, on Friday, state news agency Andina reported.
Machu Picchu is Peru's biggest tourism attraction, drawing in hundreds of thousands of visitors from around the globe each year.
Jagger arrived in Cusco Wednesday on a private jet, along with his family, from Puerto Maldonado in Madre de Dios.
The region of south-eastern Peru is a popular tourist destination for trips into the Amazon jungle. However, the region has also been facing an out-of-control spread of informal mining, which has lead to widespread environmental destruction and pollution, in addition to numerous social problems.
Madre de Dios Regional President Jose Luis Aguirre said that during a brief meeting with Jagger, the rock star asked for the government to take care of the environment.
"We talked five minutes before he travelled to Cusco on Wednesday and during the whole time he thanked us for the good treatment he had here and repeated many times that we should take care of the jungle," Aguirre said.
Government officials in the region say his visit will help raise coverage of environmental concerns in the region.
"For us, he is our ally," said the regional director of Foreign Trade and Tourism, Juan Carlos Arzola. "His presence is a big support for the fight to defend the environment since it brings the world's attention to Madre de Dios."