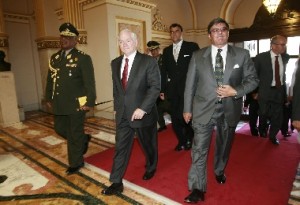 The United States Secretary of Defense, Robert Gates, reiterated Washington's support Wednesday for Peru's programs aimed at deterring drug trafficking and terrorism, state news agency Andina reported.
Gates made the comments after a meeting with his Peruvian counterpart, Rafael Rey, in Lima, where he had met earlier with President Alan García.
"The security of Peru is of great importance for us. The United States continues being committed to help Peru with its fight against narcotics and against terrorism," Gates was quoted as saying.
He added that the U.S. is looking to increase cooperation between Colombia and Mexico, where violence among armed groups linked to the drug trade is routine.
"We want to increase the cooperation with other allies in the region like Colombia and Mexico, and we have all the intention of supporting them."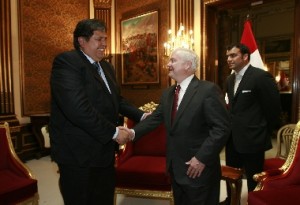 Defense Minister Rey added that the he brought up the issue of increasing U.S. counter-narcotics and anti-terrorism support for Peru.
"Yes, we spoke about the necessity of receiving greater North American cooperation in the fight against terrorism, and indirectly, about the necessity of continuing to be more efficient not only with the interdiction of flights but also maritime interdiction."
In March, however, the U.S. State Department released a report saying that Peru had not spent enough on its counter-narcotics strategy and was relying too heavily on support from the U.S.
Peru is the world's second largest manufacturer of cocaine, after Colombia. A report by the International Narcotics Control Board, however, said the country's growing illicit cultivation of coca leaf – the raw material used to make cocaine – and consequent drug supply could surpass Colombia in five to 10 years.