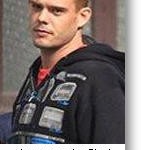 Dutchman Joran van der Sloot has reportedly been involved in stabbings at Lima's maximum security Miguel Castro Castro prison, where he is being held in connection to the murder of a university student in his Lima hotel room last year.
Van der Sloot allegedly stabbed three inmates at the prison, according to a report by Dutch News. One of the people required emergency treatment, the report said, adding that Van der Sloot has regularly been put in solitary confinement while in prison.
Van der Sloot, who is also the prime suspect in the disappearance in Aruba of US teenager Natalie Holloway, is accused of killing Stephany Flores, a 21-year-old University of Lima business administration student. The two met at a casino in Lima's Miraflores district.
Van der Sloot's defense lawyer, Maximo Altez, has previously said that Van der Sloot would plead guilty in the killing, but would seek a shorter sentence by arguing that it was not premeditated, that the slaying was done in a "violent emotion."
If convicted under the 'violent emotion' defense, Van der Sloot would be given a sentence of up to five years, compared to 25 years in prison for a first degree murder sentence.