A secret government document, prepared following a mid-2010 meeting by the heads of Peruvian intelligence agencies, outlines the alleged drug bosses in the world's top coca producing country.
The  "white list" or "Peruvian Kingpin Act," which was obtained by daily El Comercio, includes for the first time businessman Cesar Cataño, who changed his name from Adolfo Carhuallanqui Porras, and Fidel Sanchez Alayo, the son of Manuel Sanchez Paredes, the head of a family clan allegedly involved in decades of money laundering to hide profits from the drug trade.
According to the report, the police drug enforcement unit, Dirandro, began following Cataño in 2009 by looking into his vehicle import business and his company Peruvian Airlines.
Cataño's alleged connection to the drug trade received attention last year during the Lima mayoral election campaign. Candidate Lourdes Flores, twice presidential candidate and former Congresswoman, had worked as Cataño's defense attorney in a case involving imports of used vehicles and was also the chairman of Peruvian Airlines.
The report also notes his relation with Carlos Hamann, the former head of the financial intelligence unit, which is the main agency for investigating money laundering. In 2010, Hamann, who has denied any connection to the businessman, released a favorable report on Cataño.
In the case of Fidel Sanchez Alayo, 41, Dirandro pointed to documents from the Mexican attorney general's office and the U.S. Justice Department linking him to the 1987 murder of his uncle in Mexico. Sanchez was living and studying in Mexico and was on his uncle's estate shortly after the crime. Authorities found a cocaine lab on his uncle's property.
In addition, Jorge Chavez Montoya, alias Polaco, who was the main enforcer for jailed drug baron Fernando Zevallos –who owned AeroContinente– has said Sanchez Alayo was a partner in trafficking drugs to the United States.
The Sanchez Paredes family has been accused of using their businesses to launder decades-old profits from the drug business.
They made headlines earlier this month when a family feud for control of a gold mine between the father, Manuel Sanchez Paredes, and five of his six children, including Fidel Sanchez Alayo, turned deadly with at least two of their security staff killed and others injured.
The family has also been linked to numerous politicians, including President Alan Garcia's ruling Aprista party and former President Alejandro Toledo's Peru Possible party. This past weekend, Garcia himself announced that he returned a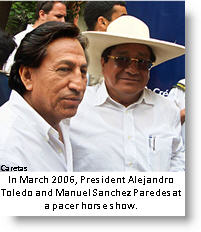 $5,000 donation that he received for his 2006 campaign from Alfredo Sanchez Miranda, the son of Orlando Sanchez Paredes, who has been listed on the Peruvian Kingpin Act since 2007.
"After finding out the family relationship between this person and the Sanchez Paredes group, I am returning the $5,000 because if I had known of this donation and the family connection, I never would have allowed my office secretary to accept it," daily Peru.21 reported Garcia as saying.
The drug kingpin list, which was created by Dirandro, the Public Ministry, counter-terrorism office Dircote and intelligence unit Digimin, also included Miguel Arevalo Ramirez, 46, who has been on the list since 2005 and owns Atlantic Airlines, which operates in Central America.
Other alleged drug barons include Jair Ardela Micchue, 36, who has been wanted by Brazilian police along the tri-border region of Peru, Brazil and Colombia. He is allegedly the head of a group of hitmen accused of a wave of violence in the region.
Gualberto Mejia Estrad, alias Gabino, a rancher in Peru's coca growing Huallaga region, is also wanted for money laundering and his ties with Florindo Eleuterio Flores Hala, also known as "Comrade Artemio."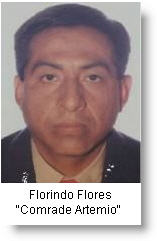 Artemio, who is also on the list, is the head of the Shining Path faction Proseguir, or "to continue." He is thought to command about 200-300 insurgents based in the Huallaga Valley.
In addition, the list also includes Victor Quispe Palomino, alias Jose, who is the leader of the Shining Path remnants based in the Apurimac and Ene River Valley (VRAE).
Both Artemio and Jose have been placed on the U.S. Department of State's narcotics rewards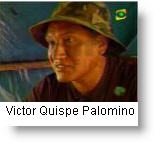 program, which offers compensation of $5 million for information leading to the arrest or conviction of the targets.
The Upper Huallaga Valley and VRAE, which includes 31 districts in the Apurimac, Cusco, Huancavelica and Junin departments, are Peru's top coca growing regions.