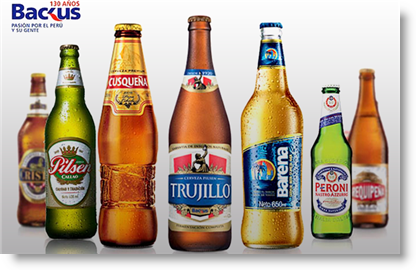 The acquisition by Belgium's Anheuser-Busch InBev of its major competitor, the London-based South African brewers SAB Miller, is being called the third largest merger-acquisition in history, with an offer of $109 billion for SAB Miller.  (The other two historic M&As are the Vodafone AirTouch-Mannesmann deal of $172 billion in 1999 and Verizon Communications-Verizon Wireless deal of $130 billion in 2013.)
If the deal goes through —the final decision is next week and the merger is expected to face antitrust issues worldwide— it includes Peru's largest brewers, Backus, owned by SAB Miller and producers of Cristal, Pilsen and Cusqueña, as well as Trujillo and Arequipeña, plus the very new brands of Backus Ice, Fiesta Real, Abraxas and Grolsch.
With the merger, AB InBev will have a complete monopoly of the Peruvian beer market.  Its subsidiary in Peru, Cervecera AmBev Peru, holds between 4% and 6% of the Peruvian beer market, and by acquiring SAB Miller it will take on another 90% market share held by Backus.
AmBev has four brands in Peru —Brahma produced at its plant in Huachipa, and its imported brands Corona, Budweiser and Löwenbräu.
While analysts do not expect the national antitrust agency, Indecopi, to intervene there may well be complications in the merger in Peru because of the non-alcoholic drinks both beverage giants handle.
Backus, owned by SAB Miller, sold several non-alcoholic brands to Coca Cola (including San Mateo, Agua Tonica and Guaraná Backus) but continues to produce them under license.  AB InBev's subsidiary, meanwhile, distributes all Pepsico beverages in Peru.
In September when AB InBev had not yet gone public about its bid for SAB Miller,  Semana Economica was told by  Carlos Laboy, managing director, global beverage sector head at HSBC in New York, that "One of the things Coca Cola asks of its bottlers is exclusivity," and Coca Cola is expected to ask AB InBev to divest itself of its own brands (Pepsico) in Latin America or provide compensation.
According to the Lima Chamber of Commerce,  beer consumption enjoys a 95% share of all alcoholic drinks in Peru,  67 liters per capita per year. Craft beers are becoming increasingly popular, but their share is still nominal.
Backus was founded in 1876 in Lima by Jacob Backus and Howard Johnston as the South American Ice Factory, later adding the brewery, and becoming incorporated in London in 1889 as the Backus & Johnston Brewery Company Ltd.  In 1954, the brewery was acquired by Peruvian investors led by Ricardo Bentín and in 1993 the company bought 63% of the Compañía Nacional de Cerveza, producers of the Pilsen brand and their biggest competitors for over a century.  In 2000,  the producers of Cusqueña and Arequipeña beers sold to Backus to avoid being bought out by Brazil's AmBev and to prevent foreign competitors entering the Peruvian market.  Two years later, however, Backus was acquired by the Colombian Bavaria brewery, which in 2005 was acquired by SAB Miller.