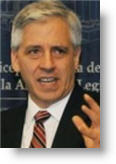 Bolivia plans to invest heavily in Peru's southern sea ports in order to increase its foreign trade through Peru, according to the vice president of Bolivia, Alvaro Garcia.
According to Peru's state news agency Andina, Garcia said that Bolivia wants to progressively decrease its use of Chilean ports for its exports and imports.
Bolivia is also to develop river ports that will permit the country to send and receive goods via terminals in Argentina, Garcia said.
The decision comes as Bolivian and Chilean leaders spar over the former's demands for access to the Pacific Ocean. Like Peru, Bolivia lost a large swath of coastal territory to Chile over 100 years ago during the War of the Pacific —Bolivia lost all of its coastline and became landlocked.
A maritime border dispute between Chile and Peru is currently at the International Court of Justice in The Hague.
"Bolivia has made a decision that is going to change the regional economy in the following decade," said Garcia.
"Little by little… we are going to start to divert and move the transport of freight that came from the Pacific Ocean and that enters Bolivia [via Chle], to the ports in Peru," he said.