UPDATE:  Arequipa governor Yamila Osorio said Monday afternoon that only four people had been killed in the earthquake, and not nine as she had been informed early in the day.
Humanitarian aid has been flown to the Colca Valley in Arequipa, where a 5.2 earthquake on Sunday, Aug. 14, killed nine people, including an American tourist. At least 40 people are reported injured, and roads were blocked by rockslides.
The aid includes 40 emergency housing modules and some 500 blankets.
Vice-President Martin Vizcarra, who arrived in Arequipa early Sunday with President Kuczynski for the city's 476th anniversary celebrations, is heading a team with the minister of Defense, Mariano Gonzalez, and health and emergency aid authorities to travel to the valley and oversee assistance.   The minister of Health, Patricia Salas, said that victims with serious injuries would be airlifted to the city by helicopter.
Acccording to the Geophysical Institute, IGP, there were three earthquakes on Sunday. The strongest occurred at 21:58 hrs and was 5.3 degrees on the Richter scale, eight kilometers deep, with its epicenter in Maca and Chivay in the Caylloma district.  Replicas have followed through the night and Monday morning, with an intensity of around 3.6º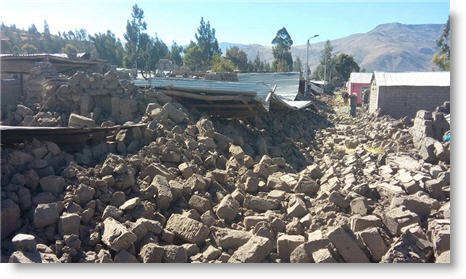 "Many houses are uninhabitable," Arequipa's regional governor Yamila Osorio reported to RPP Radio.  Early Monday, the report was of 80 houses in three different districts, but "most probably there are many more," Osorio said, adding that the first measure was to clean the roads up the valley in order to reach the different towns.
Civil defense authorities said that the death of a 66-year-old American tourist was due to the collapse of facilities at the Eco Inn hotel,  where also 10 people were injured,  in the village of Yanque.